THE INGAGE INSTITUTE is proud to be a finalist at the Axco Global Insurance Awards (Innovation track), alongside global leaders such as Swiss Re, Marsh, Generali.  
The awards celebrate the exceptional achievements of the individuals/teams who work in the multinational sector of the insurance industry. 
Following a thorough judging process, The INGAGE Institute was shortlisted, ahead of the official awards ceremony to be held on the 25 May 2023.  
The judging panel was made up of a diverse range of highly influential and respected figures within the insurance community, including Dave Matcham FCII, Chief Executive of the International Underwriting Association, Praveen Sharma, Managing Director, Global Leader Insurance Regulatory & Tax Consulting Practice, Marsh Multinational, Christopher Croft, Chief Executive, LIIBA, Wendy Wilder, Executive Director, UK Division, IICF. 
The goal of our project "IngageMe!" is to convert customers into loyal fans with the power of Web3.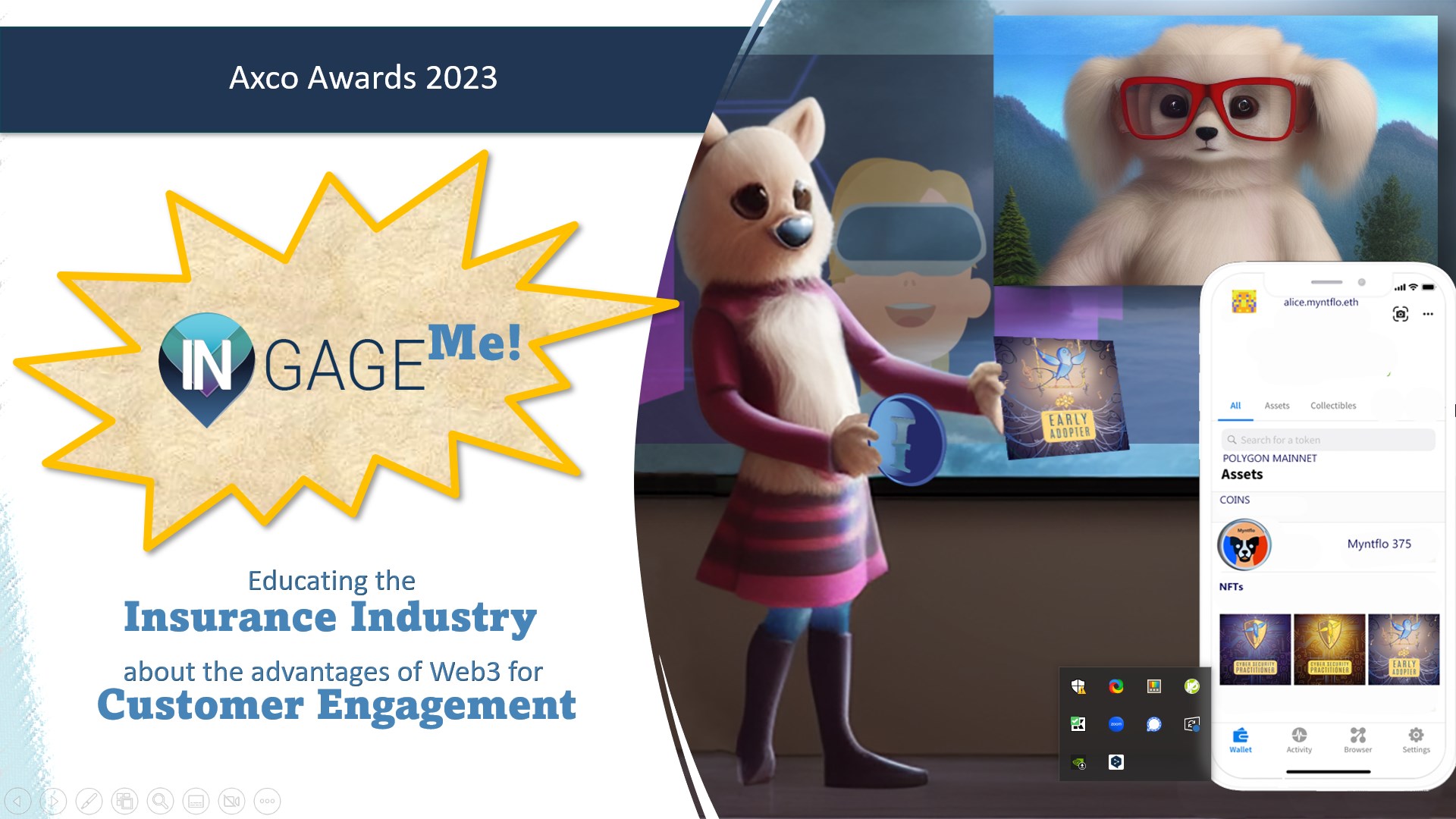 The Innovation Awards entry detailed the outstanding work of The INGAGE Institute showcasing innovation in the industry.  
This award category showcases the ability to push beyond the traditional boundaries and techniques used in the insurance sector to overcome regulatory challenges, respond with agility to major events and/or to drive continuous improvement in the operational delivery of global insurance. 
CEO Philippe Séjalon commented:  
"This is a fantastic recognition of the team and their work at The INGAGE Institute. 
We are extremely proud of being among the finalists and would like to take this opportunity to thank the outstanding IngageMe! team (Alex Solomon, Patrice Séjalon) for their hard work and expertise. They are the reason why we have been shortlisted." 
Axco's Managing Director, Mark Trumper added 
"On behalf of all my colleagues, I would like to thank everybody who entered the Axco Awards and congratulate them. It gives me great pleasure to congratulate The INGAGE Institute on being shortlisted as a finalist in the category of Innovation. All of the applications represent the very best of what our industry has to offer and I am looking forward to welcoming all our finalists to the awards ceremony. 
The full list of finalists for the 2023 Axco awards can be found at axcoawards.com/shortlist-2023. 
The selected winners will be announced during the awards ceremony at the Hilton Bankside London on 25 May 2023 
ABOUT THE AXCO AWARDS. 
Axco's Global Insurance Awards recognise and celebrate the outstanding achievements, innovationand collaboration in the global insurance industry. Bringing together insurers, brokers, risk managers and their industry partners, these are the UK's only awards to shine a light on the teams and individuals excelling in cross border operations.