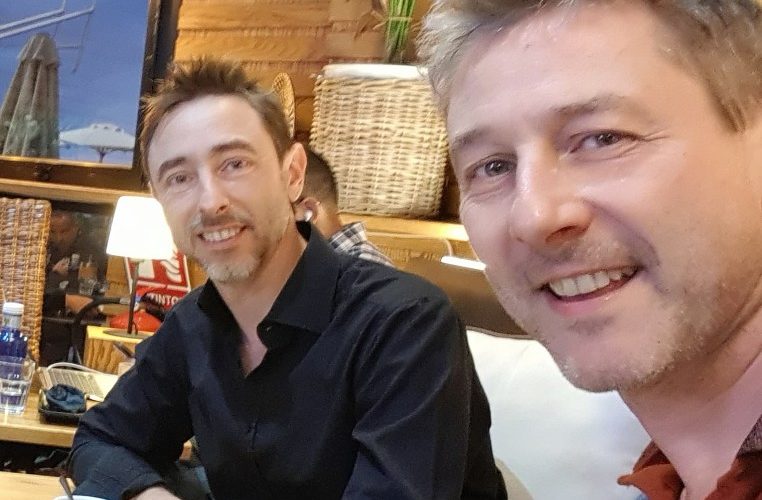 Great thanks to Binci Heeb, editor-in-chief from the thebroker.ch for this interview! You can read the original article here.
Founded in 2017, The INGAGE Institute provides digital training solutions that can be tailored to specific needs of every insurance company. Newcomers to the industry can learn about insurance and sales people can learn how to increase sales and close higher-value deals. They can also win digital rewards that they can spend in INGAGES's marketplace. These rewards can be won during in-class training, online courses and even in the metaverse.
thebroker speaks with Philippe Séjalon, one of the founders of The INGAGE Institute in Zürich.
When was The INGAGE Institute founded? 
Ingage was created in 2017 to provide innovative insurance training for the new generation of employees. Prior to the rebranding, it was called Belinguo, based on Belinguo AG, headquartered in Zurich. 
Who were the founders? 
Marion Gioda, Patrice Séjalon, Philippe Séjalon. 
You are French, why do your brother and you work in Zurich? 
My brother, Patrice, is not based in Zurich, but in France. He works exclusively online. He is a digital nomad. As for me, Philippe, I love Zurich (and more generally Switzerland) where I came to work for Swiss Re in 2001. I found it a very suitable place to build a company. 
What is your business model? 
We help insurance and reinsurance companies as well as brokers increase profit by boosting their new recruits' insurance skills with innovative training solutions on our digital platform. 
INGAGE offers insurance courses. What kind of courses are these? 
While we do offer digital courses about the basics of insurance or selling insurance, our USP is actually to offer a much more interactive and engaging learning experience thanks to simulators and serious games. We help insurance companies: 
increase their #competitivity, stand out and bring the latest technologies to their business thanks to powerful Innovation Consulting, 
#gamifytraining, maximize performance, incentivise collaboration with an AI-powered Underwriting & Claims Simulator, 
master the sales process, win customers over and learn from mistakes by immersing themselves in real-like Zoom meetings with our AI-powered Sales Simulator,   
shine, strengthen employer branding, attract and retain talents thanks to Expert Interviews! 
Are they all in English or in other languages as well?  
They are in English, German, French, Italian Spanish, Chinese or other languages. 
What is the Insurance Sales Simulator? 
It is an AI-powered Underwriting & Claims Simulator. It gamifies underwriting and claims training, maximizes performance and incentivises collaboration within the team. 
You offer educational games. What are they and who are they for? 
We have several educational games such as the #UnderwritingSimulator, #BoardGames or #TreasureHunts. They are all aimed at employees who work in the insurance industry or clients of reinsurance or insurance companies. 
The board games help them review key concepts while the treasure hunts contribute to team building. 
What are the benefits of your 3D Insurance World? 
It helps employees experience and understand insurance-related scenarios as if they were there. Imagine inspecting a large mobile phone factory or power plant and looking for all potential hazards that can set fire to it… 
Your online academy offers a gamified platform with exams and certificates. Tell me more about it. 
Our online platform offers academies like the «Sales Academy for Insurance Professionals» or the «The Fundamentals of Insurance» for newcomers to the industry. 
Learners can earn points, unlock new levels/courses and get certificates that state their achievements. These points can be converted into web3 digital rewards (coins or NFTs) and used in a market place. 
With the help of the course wizard one can create an engaging onboarding course for vendors' developers and consultants with just 2 hours of their time. How is that possible? 
We help clients digitise their training content in a very efficient and natural way. Our course wizard consists of a proven methodology and an A.I.-powered tool based on a visual mind map filled in together with the client. It generates a strong basis for a complete digital course that can be fine-tuned manually if desired. The more relevant information we have from customers in advance, the more accurate and complete the course will be. 
Congratulations, INGAGE has been selected as finalist in the Venture Competition, Switzerland's leading startup competition that recognizes innovative companies. When will you know whether you have won? 
The results are already there. We are very proud for being chosen as finalists this year even though we did not win the grand prize! We will probably participate again next year. 
There are very interesting interview video blogs on your website. The last one – thank you very much – is with me. How do you choose your guests? 
We love interviewing cool people in insurance! Most of them stumbled into insurance by chance. Why is it so hard for insurance to be appealing? Companies try to talk about it, but it sounds like boring corporate talk. We like professional, authentic people who know their stuff and are fun to talk to! 
We show how awesome the insurance industry can be, what goes on behind the scenes and reveal its «secrets». We show the variety of the jobs it offers and talk to people from all over the world, all roles and all levels (from CEOs and board members to trainees, receptionists, cleaners). 
We pick our guests based on recommendations from previous guests, our network and our goal to create this «Map of Insurance People»!
Is your company struggling to retain key knowledge from your own experts and top managers? Do you find it difficult to find a timeslot in their busy schedule to teach at your training sessions? Contact us. We record engaging interviews with them for you.  
Interview that could also be of interest: Versicherungswesen: Weiterbildungs-App mit spielerischen Lösungen